New Delhi
Mumbai Indians needed a big win against Rajasthan Royals to reach the playoffs and won the match on Tuesday with 70 balls to spare. He first restricted Rajasthan to 90-9 and then easily won the match.
The team of Punjab and Rajasthan is now tied on 10 points. And both have to play one match each. Both these teams can reach a maximum of 12 points. Mumbai and Kolkata currently have 12 points and they also have one match left. Kolkata's team has the best run rate.
Looking at the points table, Kolkata's team is still ahead of Mumbai Indians. He is at the fourth position in the points table. If they beat Rajasthan Royals in their last match and Sunrisers Hyderabad team wins over Mumbai Indians, Kolkata will go straight to the top. Even if it fails to beat Rajasthan and Mumbai loses to Hyderabad, there could be a tie for the fourth place. So overall, the race is left only between Kolkata and Mumbai.
Kolkata's last match is with Rajasthan Royals on Thursday. On the other hand, Mumbai Indians will play against Sunrisers Hyderabad on Friday.
See which team can reach the last four in 5 points. Shankar Raghuraman of The Times of India has calculated this.
1)- How many teams can be on 12 points, a lot will be decided on the match between Chennai Super Kings and Sunrisers Hyderabad. If Chennai team wins that match, then KKR, Mumbai and Rajasthan can have 12 points each and if Punjab wins then they will also have 12 points.
2)- The good thing with Kolkata is that their run rate is much better than the rest of the teams. And whenever the points are equal, then Kolkata has the highest chances of qualifying. If Mumbai's team defeats Hyderabad, then Kolkata will have to win their last match at any cost.
3)- Mumbai's team is currently in fifth place. His last match is with Sunrisers Hyderabad. She will win her match as well as hope that Kolkata loses against Rajasthan. Had KKR won that match, Mumbai might not have qualified even after winning their last match.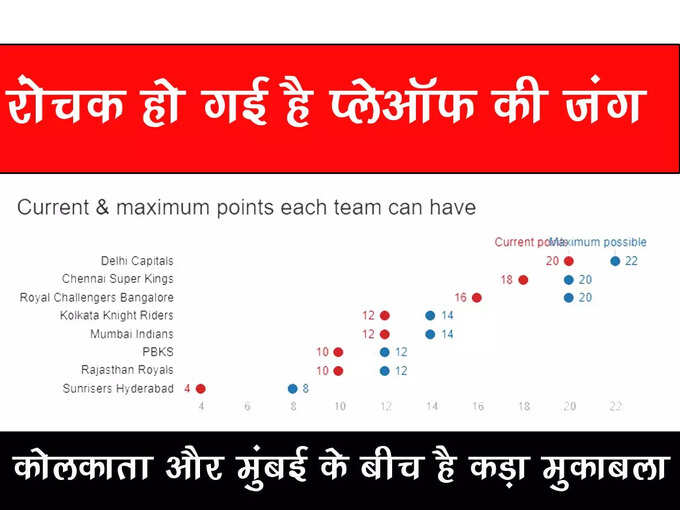 4)- Punjab are at the sixth position but will try to tie the fourth position. This can happen only if Mumbai loses to Hyderabad and Kolkata loses to Rajasthan. But even in this situation his net run rate is not expected to be better than Kolkata. So overall his journey in IPL 2021 came to an end.
5)- The team of Punjab and Rajasthan can remain tied in terms of points at the fourth place. But this can happen only when Rajasthan beats Kolkata and Hyderabad beats Mumbai. But Rajasthan is far behind in terms of net run rate. In such a situation, it is almost impossible for them to reach the playoffs.
Overall the match is now between Kolkata and Mumbai. And Kolkata's position is better in terms of run rate.