Highlights
Joe Biden addresses the 76th session of the United Nations General Assembly in New York
Biden promises to keep America out of military power, Cold War
Biden also spoke on Corona, Iran, North Korea and terrorism
New York
US President Joe Biden has addressed the United Nations General Assembly for the first time. In his speech, Biden has also clarified the future picture of American diplomacy. Biden made it clear in his speech that America would no longer be the cause of another Cold War. In gestures, he has also given a message to reduce the increased tension with China and Russia. The US President has also clarified his stand on Corona virus, terrorism, Afghanistan, Iran.
Biden remembered those killed by Corona
Addressing the 76th meeting of the UNGA, Biden paid tribute to those killed by the corona virus. We have lost a lot in this time of great pain and extraordinary possibilities, he said. Around 45 lakh people have died worldwide. Each death is an individual mourning, but our grief is a reminder of common humanity and working together. Our security, prosperity, freedom are intertwined. We should work together like never before.

Joe Biden News: Biden said – Michhami Dukkadam, wished the Jain community a happy Paryushan and Dashlakshana festival
Clearance given on military withdrawal from Afghanistan
Biden said about Afghanistan that we are facing the threat of terrorism today, we have ended 20 years of conflict in Afghanistan. He also claimed that as soon as we have ended this war, new doors of diplomacy are opening.
Biden also spoke on the quad
Regarding the Quad formed together with India, America, Japan and Australia, Biden said that we have increased the Quad partnership to meet the challenges of health security, climate change, emerging technologies.

PM Narendra Modi will meet US President Joe Biden, 'plan to fight together with the enemy', China will keep its eyes
Weapons can't defeat Corona
Biden said that weapons cannot defeat the corona virus or its future variants. But, collective science and political will can make it happen. What we need to act now is to expand access to treatment to save lives around the world. For the foreseeable future, we need to create a new mechanism for funding global health security.
Military power is the last option, we have to face the consequences
During his speech, Biden gave a message to reduce rising military tensions with China and Russia. He said US military might should be our means of last resort, not our first. He also said that we are not seeking a new cold war, where the world is divided…. America is ready to work with any nation that pursues peaceful resolutions…. Because, we all have to face the consequences of our failures.

Masterplan to surround China all-round in Quad meeting, Modi, Suga and Morrison will meet Biden
Biden's stern message to Iran and North Korea
Biden also gave a tough message about Iran and North Korea from the world's biggest forum. He said the US was committed to preventing Iran from acquiring nuclear weapons. We seek serious and sustained diplomacy to advance the full demilitarization of the Korean Peninsula.

Joe Biden Viral Video: Joe! His name is Scott Morrison… When Biden forgot the name of Australian PM in front of the camera?
Biden warns about terrorism
Biden said that America is not the same country that was attacked 20 years ago on 9/11. Today we are better equipped and more powerful. We know the bitter bite of terrorism. We lost 13 American heroes and many Afghan civilians in the heinous terrorist attack on Kabul airport last month. Those who commit acts of terrorism against us will find America their worst enemy.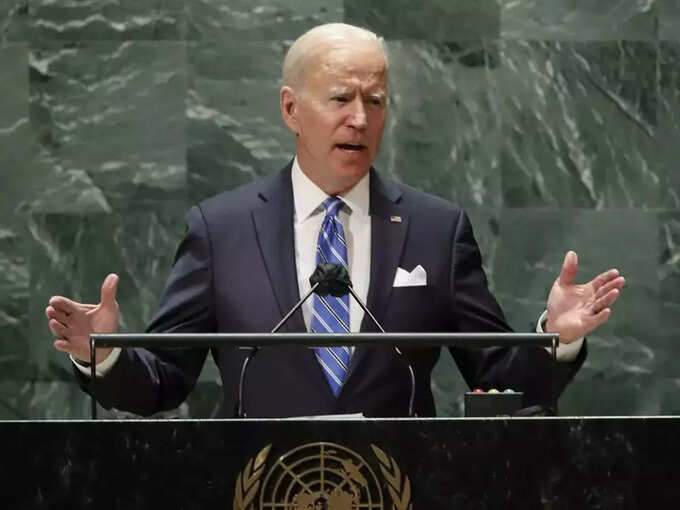 Joe Biden addressing the UNGA